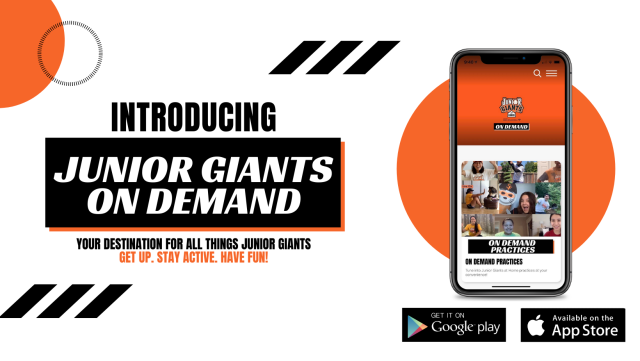 Junior Giants On Demand
In an effort to encourage our players to stay active during the off-season, we're excited to announce the launch of Junior Giants On Demand! This digital platform helps bring the spirit of the season into any household year-round. With 150+ videos and downloadable activities, families now have access to Giants-style, positive programming at their fingertips free of charge. Whether they are hopping on an on-demand Junior Giants at Home practice, trying out a new baseball drill from an SF Giants coach in their livingroom or learning about a Word of the Week, the game is theirs.

Access Junior Giants on Demand here and be sure to download the Junior Giants App.
Community Spirit Award Recipient

We are honored to announce the recipient of our Community Spirit Award - Elaine Bostwick Smith for her work with Fresh Lifelines for Youth.

Fresh Lifelines for Youth (FLY) is a nonprofit that serves youth in the juvenile justice system and those at risk by interrupting the pipeline to prison and supporting youth on their path to healthy, free, and productive lives.

As a long-time volunteer known as "Grandma" to the youth of the organization, Elaine's work through FLY's Speech Committee provides young people with the tools they need to tell their stories in a strengths-based and empowering way to help them gain personal and professional skills. Elaine takes part in any way she can, from providing rides to meetings, taking youth shopping for professional clothes and providing a sense of family by hosting gatherings at her home. Most importantly, she serves as a safe person to support their growth and transformation into community leaders through her love and acceptance. We are proud to be able to recognize her volunteer efforts through this award.
9th Inning Auction

As we wrap up the end of the regular season, don't miss out on our 9th Inning Auction benefiting the Giants Community Fund and Junior Giants. Bid on autographed items from this season's team - including Mike Yastrzemski, Brandon Crawford, Alex Dickerson and more!

The auction closes this Friday, September 25 at 10 pm.