As one of the biggest transactions in MLB history sent Juan Soto to San Diego and Toronto's American League rivals loaded up for a World Series run, the Blue Jays made a series of moves for complementary pieces.
Tuesday's Trade Deadline raised the floor for the Blue Jays, undeniably. Zach Pop and Anthony Bass round out the bullpen, Mitch White protects the rotation, and Whit Merrifield adds speed and versatility to Toronto's ever-changing lineup. 
This doesn't immediately close the gap on the Yankees, Astros or Dodgers. No opponents are losing sleep over what the Blue Jays did, but granted, that's not always the point. 
Call it the Toronto Raptors approach. For years, the Raptors stayed good, stayed competitive and stayed in the postseason, year in, year out. Eventually, most teams need to find their Kawhi Leonard, but there's something to be said about the "just get in" strategy, as long as you can do it annually. Besides, the 88-73 Braves weren't exactly a juggernaut before their postseason run to the 2021 World Series title.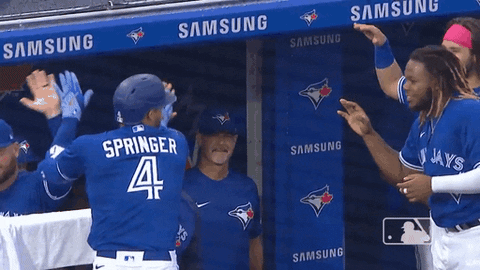 It's up to Toronto's current players to raise the ceiling now. 
Vladimir Guerrero Jr. has had his moments of late, but he's still searching for his incredible form from 2021. The same goes for Bo Bichette. Others, like Matt Chapman and Lourdes Gurriel Jr., have caught fire of late, but when Guerrero and Bichette are hitting to their capabilities, it's much easier to see this team as a World Series threat. 
Here's a look at the four players acquired by the Blue Jays and how they fit in 2022 and beyond:
2B/OF Whit Merrifield
Merrifield has received the COVID-19 vaccine and says he will be eligible to cross the border into Canada when the Blue Jays return home next. With that, the biggest question of the entire Trade Deadline has been answered.
"It was something that I probably could have handled a little better," Merrifield said, "but what's happened has happened. I'm excited to be a Blue Jay, and I'm excited to get to Toronto and play at Rogers Centre."
On the field, Merrifield fits the Blue Jays' identity better now than he would have one month ago. 
"When you play against certain teams, from the outside, there's certain teams that come in and you feel energy from them," Merrifield said. "This is one of those teams. From top to bottom, it's exciting baseball. I'm excited. I'm saying 'excited' a lot. I'm excited to be part of this team."
Under interim manager John Schneider, the Blue Jays have embraced a more aggressive approach on the bases. Schneider hinted at this when he took over the manager's role, but the change has been significant. Whether it's stealing a base, stretching a single into a double or tagging up on a throw they know will be close, they are cranking up the risks. In turn, they hope to cash in on more reward. 
Toronto's roster is athletic from top to bottom, but it's more "team speed" than individual burners. Merrifield is closer to that, with 15 steals in 18 attempts in 2022 and seasons of 40 and 45 steals already on his resume. When Merrifield isn't in the lineup, he'll be an excellent late-inning option on the bases, particularly in October.
RHP Mitch White
Call him Ross Stripling 2.0, and the Blue Jays love that. 
White has the ability to do it all, starting the season in the bullpen for the Dodgers before moving into the rotation for his last 10 appearances, posting a 3.70 ERA. This is something the Blue Jays actively target now. 
Instead of having five locked-in starters with a prospect or soft-tossing veteran waiting in Triple-A, the Blue Jays like to have an MLB-quality arm who can contribute even when he's not in the rotation. White comes with team control, like Stripling did, and will be part of that long-term picture. 

Team control was a clear priority for the Blue Jays at the Deadline. Heading into next season with Kevin Gausman, José Berríos, Alek Manoah and Yusei Kikuchi, Toronto will still need to add a starter to bridge the gap to Ricky Tiedemann -- who is the system's next official Hype Train -- but having White on the roster leaves this rotation far more secure in terms of depth.
RHP Zach Pop
The 25-year-old Canadian comes with team control, a power sinker and great stuff. He's a ground-ball machine, too, so he'll benefit from having defenders like Chapman and Santiago Espinal on his infield. 
Pop had a 3.60 ERA this season with the Marlins, and while he's not a high-strikeout arm, he has walked just two batters in 20 innings this season and does a great job of avoiding home runs, and in turn, big innings. Look for him in earlier situations, where he'll really raise the floor. 
If White mirrors the Stripling acquisition, this one mirrors that of Adam Cimber, plus some upside.
RHP Anthony Bass
Bass is the shorter-term solution to the bullpen, riding a career year with a 1.58 ERA and great peripherals. The veteran righty comes with a $3 million club option for 2023 that already seems like an easy call, so Toronto's bullpen for next season already has most of the names in place. 
Consider Bass part of the group with Cimber, David Phelps and Yimi García. There's no real hierarchy right now, but along with lefty Tim Mayza, that group will handle the setup innings before handing it off to Jordan Romano. 
Did the Blue Jays add the dominant 14-plus K/9 arm who would have turned this bullpen into a true strength? No. Is that worrying? Yes. But the talent of this group is deeper now, meaning the arms you'll see running out in the fifth or sixth inning aren't just there to fill innings.
TRIVIA
Who is the Blue Jays' all-time leader in hits?
A.) Carlos Delgado
B.) Vernon Wells
C.) George Bell
D.) Tony Fernandez
Throughout this season, we'll look back on the 30-year anniversary of Toronto's first World Series championship. Week by week, let's take a look at what was happening at that exact time as the Blue Jays built up for their historic run:
A win on Aug. 5, 1992, brought the Blue Jays to 64-43, giving them a 2 1/2-game lead in the AL East. This was also Tom Henke's 20th save of the season, which would be his final one with the Blue Jays after eight years in Toronto.
Henke went on to finish the year with a 2.26 ERA and 34 saves, giving him 217 with the Blue Jays. Alongside Duane Ward, who posted a 1.95 ERA over an incredible 101 1/3 innings in 1992, this was one of baseball's best back ends.
TRIVIA ANSWER

D.) Tony Fernandez
Over three stints covering 12 seasons, Fernandez collected 1,583 hits with the Blue Jays, batting .297 with a .765 OPS while appearing in four All-Star Games.
FORWARDED FROM A FRIEND? SUBSCRIBE NOW
To subscribe to Blue Jays Beat, visit this page and mark "Blue Jays Beat" from our newsletter list. Make sure you're following the Blue Jays or that they're checked as your favorite team.