Welcome back to the Mets Beat newsletter! Anthony DiComo has covered the Mets for MLB.com since 2007, including the past 13 seasons full time on the beat. 
At this point, it has become cliché to say that Edwin Díaz is doing things we've never seen before. So how about something we have? What are the chances that Díaz, a reliever, could win the National League Cy Young Award? 
It's not unprecedented. Nine relievers have earned Cy Young honors, though none since Eric Gagne in 2003. So what factors give relief pitchers a chance to win it? 
1. A significant body of work
When Mike Marshall became the first reliever to win the Cy in 1974, he did so by appearing in 106 games and logging 208 1/3 innings. Marshall led the Majors in appearances by a massive margin and compiled more innings than most starting pitchers did that season. It's an extreme example, but only somewhat of an outlier. Of the nine relievers who have won the award, all of them pitched at least 78 innings, four went over the century mark, and all led the league in either appearances, games finished, saves or some combination of those statistics. 
In short, volume matters quite a bit, which isn't ideal for Díaz's Cy Young chances: He ranks third in the NL in saves and 93rd in innings, and is tied for 11th in appearances.
2. A dominant stat line
Consider Rollie Fingers' 1981 campaign. Unlike Marshall, Fingers did not compile a significant workload, throwing just 78 innings in 47 games -- both the lowest of any reliever in a Cy Young year. But Fingers produced a 333 ERA+, which is one of the best measures for comparing pitchers across eras. Put simply, it suggests that Fingers was more than three times as effective as the average Major League pitcher that season. Among those in the AL with as many innings as Fingers, Dave Righetti ranked second with a 174 ERA+. Not close. 
While it's obvious that a certain level of dominance is necessary to win the Cy Young Award, it's crucial for relievers, who must do more in fewer innings to catch the eyes of those who vote. Considering how important cumulative statistics such as innings and strikeouts are to voters, relievers must produce razor-thin ERAs and rare stats even to receive consideration. 
This is where Díaz shines. He could set the all-time record for strikeout rate with potentially more than two punch-outs per inning, which is the type of eye-opening metric that should earn him some votes. His ERA+ is 289 and could soon enter Fingers territory. 
3. No starting pitcher separates himself
Again looking at Fingers' 1981 season, no AL starter won more than 14 games that year. Only one, Dennis Leonard, eclipsed 200 innings, and he ranked 10th in the AL in ERA. Righetti didn't qualify for the ERA title. Sammy Stewart won it with a mark more than twice as high as what Fingers produced. 
When Willie Hernández won both the AL Cy Young and MVP in 1984, voters found it difficult to separate the top handful of starting pitching contenders from one another. Hernández wound up receiving 12 first-place votes for Cy, while three other pitchers (including another reliever) split the other 16. 
When no starter pulls away from the statistical pack, it opens the door for relievers to receive votes. So keep an eye on Sandy Alcantara, who has been the favorite for much of the early season. If Alcantara settles back toward the pack, it could create an opportunity. 
What does this all mean for Díaz? 
Realistically, not much. Not only have typical reliever roles changed quite a bit over the decades, preventing pitchers such as Díaz from approaching Marshall-like workloads, but voter attitudes have changed as well. When evaluating pitchers, many voters now consider cumulative statistics such as Wins Above Replacement and Win Probability Added, which are inherently biased against relievers. (Díaz enters Monday's play ranked 16th in the NL in the former and 15th in the latter.) Finally, the introduction of the Reliever of the Year Award in 2014 gave voters less incentive to honor bullpen denizens with the Cy Young. 
The last time a reliever finished higher than sixth in Cy Young voting was in 2017, when Kenley Jansen ranked fifth. It's been 14 years since a reliever cracked the top three. 
It's a long way of saying that as dominant as Díaz has been, and as likely as he is to receive some down-ballot Cy Young votes, his chances of actually winning the award are slim. And that's OK. The Mets understand how valuable he's been; they don't need a plaque to prove it.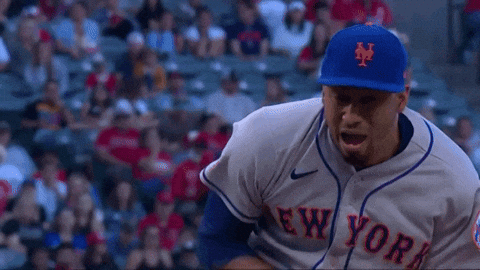 Who was the last Mets reliever to receive at least one vote on a Cy Young ballot? 
A.) Jeurys Familia
B.) John Franco
C.) Jesse Orosco
D.) Billy Wagner
Could Luis Guillorme win a Gold Glove? Although he's not a full-time player, Guillorme has given the Mets positive defensive contributions at three positions. Entering Monday's play, he was worth two Outs Above Average at second base, one at shortstop and one at third, according to Statcast metrics.
Prefer traditional stats? At second base, where he's played most often, Guillorme ranks second in the NL behind only Jeff McNeil in fielding percentage (.995), among those with at least 400 innings at the position. At third base, where he's received most of his recent reps, Guillorme rates in the top third of the league among players with at least 100 innings. He's made only one error at second and one at third.
Guillorme also made a daring throw home from second base in the Mets' win in Game 2 of Saturday's doubleheader against the Braves, cutting down Travis d'Arnaud at the plate on a play that most infielders wouldn't attempt. They're taught not to.
At this point, Guillorme has earned the right to defy such rules. And while he isn't likely to win a Gold Glove, mostly because there is no such award for utility players, Guillorme has more than his share of fans within the Citi Field clubhouse.
"He should win a Gold Glove," pitcher Chris Bassitt said. "In my opinion, Guillorme has the best glove in the infield in the big leagues."
PARDON OUR DUST WHILE MOVING
Some eagle-eyed fans noticed this week that the Mets have hung nine miniature banners in left-center field to commemorate their World Series titles, NL pennants, NL East titles and Wild Card berths. The signs are temporary; the Mets are in the process of moving their full-sized banners from the third-base line, where they interfered with newly installed LED boards. Those banners will soon have a permanent home in the upper deck in right field, across the stadium from the Mets' retired numbers in left.  
THIS WEEK IN METS HISTORY
Aug. 9, 2005: David Wright made one of the signature defensive plays of his career, ranging far behind third base in San Diego to snare a Brian Giles pop-up with his bare hand as he fell to the ground. The play won MLB.com's 2005 This Year in Baseball Play of the Year Award. 
TRIVIA ANSWER
D.) Billy Wagner
Wagner finished sixth in NL voting in 2006, which wasn't even the best performance by a reliever that year. Padres closer Trevor Hoffman came close to winning the award, receiving 12 first-place votes and finishing runner-up to Brandon Webb. The NL Reliever of the Year Award is now named after Hoffman. 
FORWARDED FROM A FRIEND? SUBSCRIBE NOW
To subscribe to Mets Beat, visit this page and mark "Mets Beat" from our newsletter list. Make sure you're following the Mets or that they're checked as your favorite team.