ANAHEIM -- Angels interim manager Phil Nevin has watched two-way star Shohei Ohtani firsthand this year and also had the chance to see Yankees superstar Aaron Judge up close when Nevin was New York's third-base coach from 2018-21. 
Judge and Ohtani are considered the top two candidates for the American League MVP Award this year, with Ohtani looking to win the award for the second straight year. Judge, though, has emerged as the early favorite after coming out of the All-Star break on a hot streak and has 46 homers and 100 RBIs in 113 games this year. 
Nevin was asked who he thinks has been the AL MVP this year, and he said it's tough to top Ohtani because he's the best player in baseball with his ability to both hit and pitch at an elite level. But if Judge reaches 61 homers, it could be tough for Ohtani to beat him -- much like in 2012, when Mike Trout had an incredible season but Miguel Cabrera was the AL MVP because he won the Triple Crown. 
"That's a hard one for me," Nevin said. "Love them both. To say I'd vote for one guy over another -- our guy, nobody does what our guy does. You're talking about a top-however-many Cy Young pitcher, and he's probably right up there in offensive categories too. So, I don't think anybody can match those things."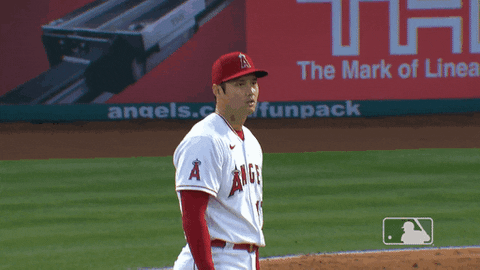 Ohtani turned in another solid outing on Monday against the Mariners despite not having his best stuff. He allowed two runs on seven hits over six innings but didn't factor into the decision in a 6-2 loss that was marred by an ugly ninth inning that saw the Angels make several defensive miscues. 
Ohtani mixed in a new pitch, as he's starting to throw a two-seam fastball to join his plethora of pitches that includes his four-seamer, slider, splitter, curveball and cutter. He had been working on it in recent bullpen sessions and felt like it was ready to debut in a game. It's yet another pitch that hitters will have to worry about against Ohtani going forward. 
"I was messing with my [two-seamer] playing catch and in bullpens," Ohtani said through interpreter Ippei Mizuhara. "And felt it was time to break it out."
NEW MLB PIPELINE PROSPECT RANKINGS RELEASED
MLB Pipeline released a mid-season update to their prospect rankings, including updating the Top 100 prospects and each of the club's Top 30 prospects. The Angels have one player among the Top 100 prospects, as catcher Logan O'Hoppe is ranked No. 67. O'Hoppe, who is off to a hot start with Double-A Rocket City with five homers in seven games, was acquired from the Phillies for outfielder Brandon Marsh on Aug. 2.  
O'Hoppe is also the club's No. 1 prospect ahead of shortstop Zach Neto, who was the 13th overall selection in the 2022 Draft. Neto is also at Double-A Rocket City after playing in seven games with High-A Tri-City. Angels fans can watch both O'Hoppe and Neto play for free on Wednesday, as Double-A Rocket City's game against Chattanooga will be streamed live on MLB.com and MLB.TV. 
Catcher Edgar Quero, lefty Ky Bush, shortstop Denzer Guzman, right-handers Sam Bachman and Chase Silseth, second baseman Adrian Placencia and right-handers Jake Madden and Landon Marceaux round out the club's Top 10 prospects. Right-handers Caden Dana and Ben Joyce, who were both drafted this year, are ranked No. 11 and No. 12, respectively, while lefty Tucker Davidson, who was acquired from the Braves for Raisel Iglesias, is ranked No. 13. Check out the Angels' Top 30 prospects here.
TRIVIA
Who holds the Angels' record for highest batting average in a single season?  
A.) Rod Carew
B.) Chone Figgins
C.) Vladimir Guerrero
D.) Darin Erstad
Mike Trout, who has been out since July 12 with a back/rib cage injury, faced live pitching before Monday's game against the Mariners and had a scheduled off-day on Tuesday. But Trout is nearing a return, and it could come as soon as Wednesday's game against the Mariners, although it's more likely it'll come on Friday against the Tigers in Detroit. Nevin was asked if he thought Trout could return on Wednesday, and he said it wasn't likely -- but he didn't rule it out. 
"I don't know if that's part of the progression," Nevin said. "We're just going to see how he feels in the morning. I don't ever want to say no or yes completely. If the stars align and he came in and told me, 'I want to play' -- but I don't think so."
• Luis Rengifo has been the Angels' hottest hitter but was the beneficiary of some good luck against the Mariners on Monday. Rengifo hit a deep drive to right-center off Luis Castillo, and outfielders Julio Rodríguez and Mitch Haniger collided trying to make a leaping catch. The ball popped out of Rodríguez's glove and went over the fence to give Rengifo his eighth homer of the year. 
• Davidson was much better in his second start with the Angels and picked up his first win with his new club, and the second of his career, with a strong outing against the Twins on Sunday. Davidson relied heavily on his slider and said developing his changeup will be important for him going forward. 
THIS WEEK IN ANGELS HISTORY
Tim Salmon became the Angels' all-time home run leader with career blast No. 223 off Yankees ace Roger Clemens on Aug. 18, 2000. Salmon passed Brian Downing with his solo shot to lead off the fourth in an eventual 9-8 win over the Yankees in 11 innings. Salmon finished his career with 299 homers, which was the club record until Mike Trout passed it in 2019.
TRIVIA ANSWER
D.) Darin Erstad
Erstad hit .355 in 2000. Carew holds the second-highest mark, hitting .339 in 1983, while Guerrero batted .337 in 2004 and Figgins hit .330 in '07. Erstad and Guerrero share the club record for total bases in a season with 366. 
FORWARDED FROM A FRIEND? SUBSCRIBE NOW
To subscribe to Angels Beat, visit this page and mark "Angels Beat" from our newsletter list. Make sure you're following the Angels or that they're checked as your favorite team.