With three weeks remaining in the regular season, the American League playoff picture is coming into focus. The Astros are closing in on another AL West title and the top seed in the AL, with the Yankees holding on as the No. 2 seed atop the AL East.
Beyond that, the other four AL playoff teams are pretty much set. The Mariners, Blue Jays and Rays are on solid footing as the three likely Wild Card teams, though the order is yet to be decided. The last spot will come down to the AL Central winner, which entering Tuesday had the Guardians with a three-game lead over the White Sox and five over the fading Twins.
The Astros, if they keep the top spot, will get a first-round bye and play the winner of the Wild Card series between the fourth and fifth seeds in the AL. Let's take a closer look at the four most likely teams the Astros would face in the best-of-five ALDS.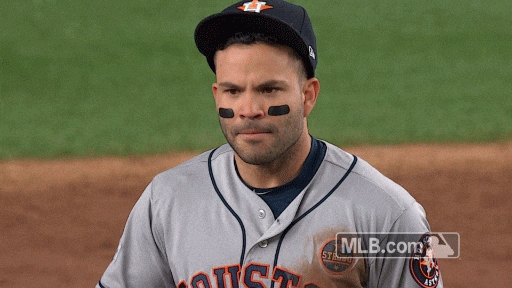 Mariners
The Astros went 12-7 against the Mariners in the regular season, winning six of the seven meetings against their AL West foes in the second half. That included a three-game sweep at Seattle on July 22-24 and winning three of four games at Minute Maid Park a week later.
Seattle traded for pitcher Luis Castillo from the Reds at the Trade Deadline, so the Astros haven't faced Castillo yet as a member of the Mariners, but they pounded Robbie Ray this year (13 earned runs in 10 2/3 innings). Seattle figures to be a tough place to play in October considering the Mariners would be making their first playoff appearance in 20 years and T-Mobile Park would be rocking.
Blue Jays
This would be a lot of fun, considering Astros playoff hero of yesteryear George Springer is on the Blue Jays, along with former Astros outfielder Teoscar Hernández and Cavan Biggio, son of Astros Hall of Famer Craig Biggio. The Blue Jays, though, may also be the toughest ALDS matchup for Houston, considering they rank second behind the Yankees in runs scored in the AL and won four of six meetings against Houston this year.
One of those Astros wins was a walk-off homer by Jeremy Peña off Blue Jays closer Jordan Romano in the 10th inning on April 24. The Blue Jays' pitching staff held the Astros pretty much in check outside of Houston's two wins. Kevin Gausman and Alek Manoah would be a formidable 1-2 to match up against Verlander and Valdez, and facing José Berríos is no walk in the park.
Guardians
The Astros, who swept Cleveland in the 2018 ALDS, lost four of seven games this year against the Guardians, who took two of three in Houston in May and split a four-game series in Cleveland in August. The Astros outscored the Guardians, 26-18, in those seven games.
Cleveland's starting pitchers had a 5.03 ERA (22 earned runs in 39 1/3 innings) in the seven games, but that ERA rises to 7.77 when you remove two terrific starts by Triston McKenzie. He held Houston to one run in seven innings May 23 and threw eight scoreless on Aug. 7. He could keep the Guardians in the series. The only batter who did consistent damage against the Astros was -- who else? -- José Ramírez, who was 9-for-27 with two homers and seven RBIs.
Rays
Believe it or not, the Astros and Rays have yet to play this year, but that will soon change. Houston will play Tampa Bay six times in a 12-game span beginning with Monday's series opener in St. Petersburg. The Rays beat the Astros in the AL Championship Series in 2020 and took four of six games from them last year, so it's not been an easy matchup for Houston.
In fact, since 2017, the Rays are 14-13 against the Astros, including an 8-6 mark at Tropicana Field. The Rays' offense isn't good, but they can pitch. Tampa Bay's team ERA is ranked third behind the Astros and Yankees in the AL. The Rays are led by AL Cy Young candidate Shane McClanahan (if healthy), Corey Kluber and Drew Rasmussen. Fortunately for the Astros, it doesn't appear Tyler Glasnow will return for 2022.
CATCHING UP WITH CHRISTIAN VÁZQUEZ
Q: You wore No. 7 in Boston because of fellow Puerto Rican Ivan Rodriguez, so when you got to the big leagues what was it like to finally meet one of your idols?
A: "It was special. I met him in 2016 in Arlington, and he signed a jersey for me. It was very cool. It means a lot to me."
Q: When you were traded to the Astros, did you already know No. 7 was retired for Craig Biggio?
A: "I knew it was retired for one of the best hitters in the big leagues, and I had the 9 and 21 to choose from, and 21 is too big for me [because of] Roberto Clemente. It's very heavy for a Puerto Rican to wear, so I took 9."
Q: Puerto Ricans have worn No. 21 on Roberto Clemente Day in the past, but it's not meant to be worn full-time?
A: "It's too much pressure. It's something that's a very special number for our island. It's too much. We need to retire that number for baseball. It means a lot for everybody, and we need to respect that."
Q: You talked about Pudge signing an autograph for you. What's the weirdest thing you've ever been asked to sign?
A: "Forearm. A guy tattooed my signature on his forearm, so that was crazy. I don't know why."
Q: The Red Sox and Astros battled through some playoff series the past few years, so how strange was it to come over to the Astros and play alongside players who were your rivals?
A: "It's very fun here. It's a special group. It's a very talented group and I'm very happy to be here and help this team to win another championship. You adjust quick and turn the page. Whatever they need, I'm here for it."
TRIVIA
Albert Pujols hit 62 of his 697 career homers (entering Tuesday) against the Astros, which is his most against any team. Which Astros pitcher has served up the most career homers to Pujols?
A.) Wade Miller

B.) Roy Oswalt

C.) Dallas Keuchel

D.) Brandon Backe

"I've thought about it, yeah, but I've got the present to deal with. You know what I mean? You think about it, but you don't dwell on it. Yeah, I'd like to come back. I'd like to win this year and next year, too. But you've got to win one first. Then you win two." -- Baker, on the status of his contract, which is up after the 2022 season.

THIS WEEK IN ASTROS HISTORY
Sept. 18, 2019
Gerrit Cole became just the 18th pitcher in MLB history and third Astros pitcher to notch at least 300 strikeouts in a season when he struck out Rangers designated hitter Shin-Soo Choo swinging to end the sixth inning. He finished with 326 strikeouts and wound up second in the AL Cy Young race to teammate Justin Verlander, who finished with 300 strikeouts.
"It's really special," said Cole, who struck out 10 batters in eight innings of Sept. 18 of that season to give him 302. "I can't really put it into words."
In the game, the Astros beat the Rangers, 3-2, to notch their 100th win for the third season in a row and clinch their fourth playoff berth in five seasons.
TRIVIA ANSWER
A.) Wade Miller

Miller gave up six career homers to Pujols, all while the slugger was with St. Louis. Pujols hit career homers Nos. 5 and 6 off Miller on April 22, 2001, slugged career homer No. 83 off him on May 20, 2003, hit career No. 120 off him on April 20, 2004, and added Nos. 127 and 128 against Miller on May 29, 2004.
FORWARDED FROM A FRIEND? SUBSCRIBE NOW
To subscribe to Astros Beat, visit this page and mark "Astros Beat" from our newsletter list. Make sure you're following the Astros or that they're checked as your favorite team.