Welcome back to the Reds Beat newsletter! Mark Sheldon has covered baseball for MLB.com since 2001, including the Reds since 2006.
A CONVERSATION WITH HUNTER GREENE
CINCINNATI -- A highly anticipated prospect since he was the second overall pick in the 2017 Draft, Reds starting pitcher Hunter Greene arrived in the big leagues in 2022 and showed what the hype was about. 
Greene, 23, routinely touched 101-102 mph with his fastball and developed his slider and changeup. It wasn't all smooth throughout his 24 starts, and the right-hander finished 5-13 with a 4.44 ERA and a team-leading 164 strikeouts in 125 2/3 innings.  
There were also 24 home runs allowed, including 23 before the All-Star break. But after working on sharpening his fastball location, Greene had a 0.78 ERA with 37 strikeouts over his final four starts – after returning from a right shoulder strain.  
During Redsfest on Dec. 2, I spoke with Greene about his offseason. 
MLB.com: After throwing the most innings in a season of your pro career, did it feel different after the season ended to shut everything down for the offseason? How have you recovered? 
Greene: Yeah. I'm ready to go. I actually started to play catch today. I have a really good program in place and feel great. That's always a nice feeling coming out of a season and being able to get into your training. You're feeling like you're ready to go and really conquer the world. 
MLB.com: With no injuries to rehab from, what's it like to have a normal offseason? 
Greene: It's a great feeling to be able to put all of your focus and attention into the betterment of your game, and being able to level up is a great feeling. You don't feel like you have obstacles to overcome just to get to a healthy part of your career. There's a lot to work on and a lot to build off of. 
MLB.com: What are you working on between now and February? 
Greene: I just started throwing, but obviously I want the consistency to my mechanics and making sure I feel good going into my bullpens and that all my pitches are working, and all that good stuff. I want to be well-rounded coming into Spring Training and healthy.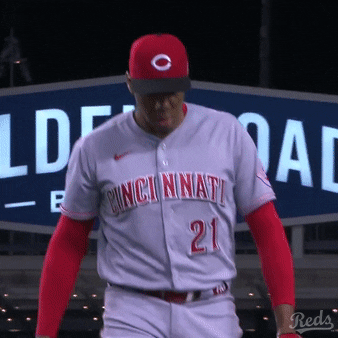 BARRERO PLAYING IN PUERTO RICO
One of the current players who did not attend Redsfest was shortstop Jose Barrero, because he had just left to play winter ball in Puerto Rico. Barrero has mostly struggled as a hitter in the big leagues, batting .152 in 48 games last season during an audition over the final two months where he regularly played shortstop. 
Recently promoted hitting coach Joel McKeithan spent a couple of days in Florida to work with Barrero and check his progress before he headed to winter ball. 
"It was good for them to connect, work on the adjustments he needs to make and then go to Puerto Rico and be able to implement that," Reds manager David Bell said. "He'll have a chance to play. Those games are important and mean a lot to him, but just to be able to have somewhere to work on those things before Spring Training." 
On Dec. 18, 1981, the Reds acquired outfielder Cesar Cedeno in a trade from the Astros. Whom did Cincinnati send to Houston in that deal? 
A.) Joe Morgan
B.) Dan Driessen 
C.) Rafael Landestoy 
D.) Ray Knight 
CATCHING UP WITH A NEW REDS HALL OF FAMER
It was great to see former Reds reliever Danny Graves at Redsfest and congratulate him personally on his recent election to the Reds Hall of Fame. Graves, who is the franchise's all-time saves leader with 182 after playing for Cincinnati from 1997-2005, was elected with former general manager Gabe Paul on the veterans committee ballot.
"Every time I'd see Reds fans, whether it was fantasy camp or Redsfest or just throughout the season, everybody says that, "You should be in the Hall of Fame, you should be in the Hall of Fame,'" Graves said. "I said, 'Well, it's OK that I'm not because I'm still part of the family. I'm still around, and I still get to do stuff. I'm still asked to do things with the Reds.'  
"Being in the Hall of Fame, obviously, it wasn't something that I played for. It's a huge honor but if it didn't happen, I'd still be OK. I would still be happy every single day. I'm very ecstatic that it did happen, and now I won't have to answer that question anymore. People won't be saying, 'Why aren't you in the Hall of Fame?' I'm so grateful that it happened."
"No one understands that everyone wants to play in Cincinnati. They want to be in Cincinnati. [Nick] Castellanos wants to be back in Cincinnati. Sonny [Gray] wants to be back in Cincinnati. Wade [Miley] wants to be back. Tucker [Barnhart] wants to be back. Everyone who comes there wants to stay in Cincinnati. It's not like people who leave are happy to leave. It's that they just can't keep them around. It's kind of sad. Everybody loves Cincinnati. It's a sad thing that we all can't stick around." -- Former Reds shortstop Kyle Farmer, who was traded to the Twins on Nov. 18 
THIS WEEK IN REDS HISTORY 
Dec. 12, 1989: The Reds acquired first baseman Hal Morris and a Minor Leaguer from the Yankees for pitcher Tim Leary and outfielder Van Snider. Morris went on to play 10 seasons for Cincinnati (1990-97, 1999-2000) and batted .305 with an .807 OPS for the club. That included his batting .340 for the 1990 World Series winners. 
Knight was sent to the Astros for Cedeno in a 1-for-1 trade.
FORWARDED FROM A FRIEND? SUBSCRIBE NOW

To subscribe to Reds Beat, visit this page and mark "Reds Beat" from our newsletter list. Make sure you're following the Reds or that they're checked as your favorite team.